---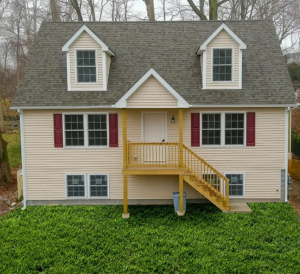 In a world where "bigger is better" has often been the prevailing sentiment, we are seeing a trend towards smaller or what we like to call smart-scale modular homes. 
Smaller homes represent a trend in lifestyle where home buyers are seeking all the modern innovations available in any new home but with lower construction costs. Lifestyle considerations also play a role as people opt for simpler, more sustainable living spaces with lower energy costs and greater space efficiency. 
Let's look closely at some of the key drivers behind this trend.
Economic Considerations: Lower Construction and Overall Home Costs
Smaller homes offer an affordable alternative in several ways. A smaller mortgage means lower financing costs over the home's life. A smart-scale home also means lower utility and maintenance costs.
When it comes to creating a smaller modular home the savings shine. While raw material inflation has leveled off, labor and financing costs have continued to increase. Smaller homes are built more quickly with fewer construction inputs. Our factory can build these homes with great efficiency and at a fraction of the time it takes for a traditionally constructed home. 
Environmental Considerations
Larger homes have a larger carbon footprint. Tiny and smaller homes are inherently more sustainable requiring fewer resources to build and maintain. Modular homes overall have greater sustainability than traditional homes (link to the blog post on sustainability).
Simplified Living in Retirement and for Today's Lifestyle
We are seeing a greater interest in ranch-style homes which are often on a smaller scale. These homes allow people to "retire in place." Families enjoy the affordability too and often we see extended exteriors to accommodate fire pits and other outdoor entertainment features.
Customization and Style
At Westchester Modular we can create a smaller modular home that still has the curb appeal and sense of a larger home. Exterior features can be created to give the home a significant style. Interiors are given the same thoughtful approach as any of our homes. Using our state-of-the-art design center (link to blog post) our clients can pick out high-end features such as quartz countertops, premium fixtures, and finishes.
In summary, the trend towards smart-scale, smaller homes represents a shift towards more affordable, sustainable modular home building. Our clients enjoy the same premium, custom design as all of our home buyers while enjoying cost savings and lifestyle benefits.
Interested in learning more?  Listen to our podcast (link to podcast) where we dig deeper on the trend towards smaller homes.  And, watch this short clip to view some of our client's smart-scale homes.
About Westchester Modular Homes Construction Corp.
Westchester Modular Homes Construction Corp. has built thousands of premium custom homes at a lower cost than traditional construction methods while still meeting the most exacting standards for quality workmanship. 
We serve Westchester, Putnam, Dutchess, Orange, Rockland, and Sullivan counties in New York, along with Sussex County in New Jersey and Pike County in Pennsylvania.  
Learn more by joining one of our convenient virtual tours of our factory.  You can sign up at Modular Home | Westchester Modular Homes Construction Corp (wmhconstruction.com)  
You'll learn first-hand about our quality, service, innovation, and agile speed and have a chance to ask your questions about modular home building 
Or give us a call at (845) 278-1700 and we'd welcome the chance to help you start planning your dream home.