---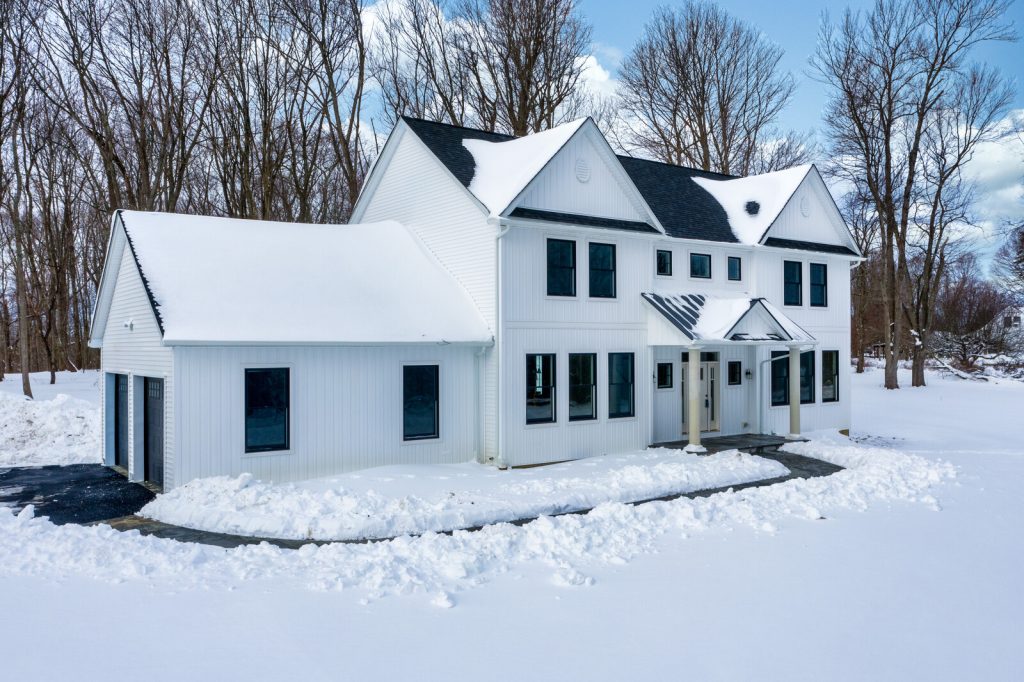 Insulating our homes is essential to maintain a comfortable temperature year-round and reduce energy consumption. By properly insulating our homes, we can save money on heating and cooling bills and reduce our carbon footprint. In this blog post, we will explore different types of home insulation and their benefits as well as what is an "R-value," what is a "U-value," and what Westchester Modular uses in our modular homes.
What is an R-value?
Different types of insulation have unique R-values.  So what is an R-value?  
R-value measures how well building insulation can prevent the flow of heat into and out of the home. A higher R-value means greater insulation performance, and thus more savings on your next heating and cooling bill. 
Insulation R-values vary based on the type, thickness, and density of the insulation. Typically, a higher insulation R rating means better climate control and better energy efficiency. However, a higher insulation R-value usually means a higher price point as well. Depending on where you live, you may or may not want to invest in the highest R-value.  We build in New York, New Jersey, and Pennsylvania where the climate can be very cold in the winter and a higher R-value may be worth the cost.
What is a U-value?
Per First in Architecture, A U-value – is the measure of the overall rate of heat transfer, by all mechanisms under standard conditions, through a particular section of construction 
In other words, a U-value is used to measure how well or how badly a component transmits heat from the inside to the outside. The slower or more difficult it is for heat to transfer through the component, the lower the U-value. This means that we are looking for a lower U-value.
The lower the U-value the better.
When we talk about a component, we can mean a pane of glass, a timber door, or a complete building assembly such as a cavity wall. We can work out how much heat passes through each element of the building assembly and determine the U-value based on the amount of energy lost through a square meter of material.

With some idea of R and U values, we can now address the different types of insulation.
Fiberglass Insulation
Fiberglass insulation is one of the most common types of insulation used in homes. It is made of tiny glass fibers and is available in batts or blankets. Fiberglass insulation is cost-effective and easy to install. It is also non-combustible and does not absorb moisture. However, it can be irritating to the skin and respiratory system, so proper protection should be worn during installation.  As a standard, Westchester Modular Homes uses R-21 Fiberglass Insulation in the exterior walls and R-38 Fiberglass Insulation in the Attic.
Cellulose Insulation
Cellulose insulation is made from recycled paper products, primarily newspapers. It is an environmentally friendly option that is treated to be fire-resistant. Cellulose insulation can be blown into walls, attics, and other hard-to-reach areas. It provides excellent thermal and sound insulation, reducing noise pollution within the home.
Spray Foam Insulation
Spray foam insulation is a versatile option that expands to fill gaps, cracks, and other irregularities, creating an airtight seal. It provides superior insulation and can reduce energy loss significantly. There are two types of Spray Foam Insulation,: Open Cell Spray foam and the another is Closed Cell Spray Foam.  Both types of Spray foam insulation are long-lasting, durable, and have very low U-values (a measurement of the overall rate of heat transfer) compared to other insulation options.  Closed Cell Spray foam possesses double the R-value per inch (a measure of thermal resistance). Although more expensive than other types of insulation, the high performance of Spray foam insulation will pay for itself in the long run. 
Rigid Foam Insulation
Rigid foam insulation, also known as foam panels, is a popular choice for insulating foundations, basement walls, exterior walls and industrial buildings. It is lightweight, easy to handle, and provides excellent insulation. Rigid foam insulation is resistant to moisture and can help prevent mold and mildew growth.  Adding Ridged foam insulation to the outside of the home creates additional R-value as well as a continuous insulation barrier around the home. 
Reflective Insulation
Reflective insulation, often found in attics, works by reflecting radiant heat away from the living spaces. It usually consists of a layer of aluminum foil attached to a backing material. Reflective insulation helps keep homes cool in hot climates and reduces cooling costs. It is particularly effective in areas with high levels of sunlight.
Natural Fiber Insulation
Natural fiber insulation, such as cotton, wool, or hemp, is an eco-friendly option that provides excellent thermal and sound insulation. It is non-toxic, does not contain harmful chemicals, and is easy to handle and install. Natural fiber insulation is commonly used in eco-friendly or "green" homes.
In conclusion, choosing the right type of insulation for your home is crucial in creating an energy-efficient and comfortable living space. Consider factors like cost, effectiveness, environmental impact, and the area you need to insulate. Consult with a professional insulation contractor to determine the best insulation option for your specific needs. By investing in quality insulation, you can save money on energy bills, reduce your carbon footprint, and create a more sustainable home environment.
Westchester Modular Homes Construction Corp. has built thousands of premium custom homes at a lower cost than traditional construction methods while still meeting the most exacting standards for quality workmanship. 
We serve Westchester, Putnam, Dutchess, Orange, Rockland, and Sullivan counties in New York, along with Sussex County in New Jersey and Pike County in Pennsylvania.  
Learn more by joining one of our convenient virtual tours of our factory.  You can sign up at Modular Home | Westchester Modular Homes Construction Corp (wmhconstruction.com)  
You'll learn first-hand about our quality, service, innovation, and agile speed and have a chance to ask your questions about modular home building 
Or give us a call at (845) 278-1700 and we'd welcome the chance to help you start planning your dream home.