---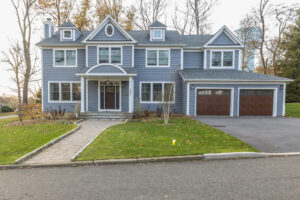 Building a modular home is an exciting project, with so many styles to choose from and so many dream features to incorporate. Whether you're a first-time homebuyer or an experienced homeowner, — and whether you're undertaking a modular home or "stick build" — a construction loan can be as unique as the project you're financing. 
In most cases, your first building decision is how to structure your construction loan. Construction loans are designed to meet any number of scenarios, including the purchase of new land, and the tearing down of a house to rebuild on existing land. Keep in mind that interest rates for construction financing tend to be slightly higher than those when you're buying an existing home because there's extra work for both the underwriters and the employees managing the loan and dispersing construction funds for a year or two.
Construction to Permanent Loan
A construction loan is a short-term loan used only during the months of construction. Most new home construction loans provide short-term funds designed to get you through the building stage of your project, then convert it into a permanent long-term loan. This is called a single-closing loan. Bear in mind this is different from a mortgage, and also separate from the land purchase or land enhancement costs.
This type of construction loan involves only one application and one closing that covers both the construction phase and the permanent financing. This means you'll only pay closing costs once, lock in your interest rate at the beginning, and lay out all your documentation only once.
Two-closing C-to-P Loan
A two-close construction loan, on the other hand, refers to buyers taking out a construction loan, then once the home is complete and a certificate of occupancy has been issued, the buyer would then need to obtain an "end loan" or permanent financing to buy out the construction loan.  The origination and delivery process can be broken down into several phases, though some steps may overlap or could be done at the same time. Bear in mind that the lender originating the permanent loan doesn't need to be the same lender you used for the construction loan and that the end loan rate is not locked in until the certificate of occupancy is issued.
Bridge Financing
Bridge loans are short-term arrangements designed to get you through complicated timing—for example, when you're buying new land and beginning the building process, but haven't sold your current house. Frequently, homeowners don't have cash on hand to carry both simultaneously. In this case, the lender agrees to advance your money, often based on the equity in your current home.
Get Those Ducks in a Row
Before you begin structuring a loan, you'll want to check your credit report for any inaccuracies or outdated information. Your credit rating plays an important role in the offer you receive from the lender; you don't want to be caught by surprise with unpleasant or incorrect information at a late stage in the process.
Any lender will likely need to see documentation of your employment, income, IRS filings, and often bank accounts, expenses, and other assets. It's a good idea to pull these together before you even begin talking to lenders about your loan options. 
Other things to bear in mind before you begin:
*Have a rough idea for a budget
*Do a little research into the estimated taxes, and the market values of surrounding homes
*Be aware that tear-downs work best if you already have equity accrued in the existing home
*Construction loans apply to additions as well as full builds — and yes, there are such things as modular additions! 
*Construction loans are interest-only loans during the months of construction which means no principal is being paid until after the certificate of occupancy has been issued and it converts to an end loan.  
*Modular construction is a faster method of construction that shrinks the amount of time needed for the construction loan-  saving the buyer money in interest-only payments. 
Have questions? Interested in learning more? Westchester Modular Homes is happy to talk with you about your construction finance options. Contact us today!