---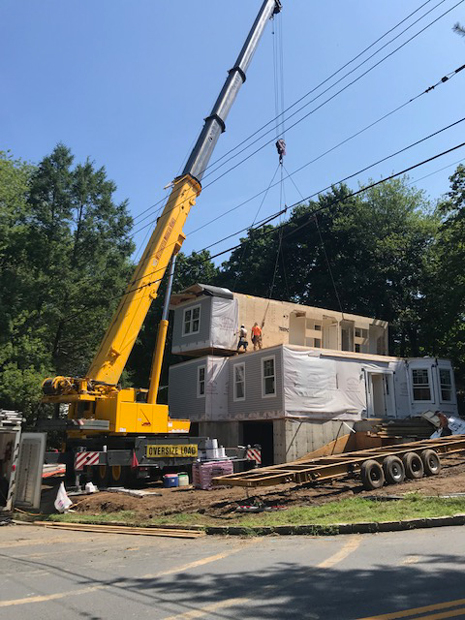 Accessory dwelling units (ADUs) are an increasingly popular area for modular building, and we've done an interesting range of niche projects by request. 
ADUs by definition are smaller, independent supplements to the primary residence on the property. There's a tremendous range of possibilities under the ADU umbrella. It can be attached or detached additions to new or existing homes, or even converted portions of existing structures. It's a blanket term that can include in-law and multi-generational housing, low-income housing, and lodging for home health aides and household help. If it sounds like the sky's the limit, it is, to some extent – at least within the town's letter of the law.
The key, as with any custom project, is to make sure the design is an appropriate match to your needs and your primary structure(s). Whether it's building out from your primary residence to include family or to allow for additional income, or adding a structure for other commercial purposes, we can help you ensure that your property's ADU doesn't look like an afterthought.
Relatives and tenants
ADUs can increase housing flexibility and affordability for modular homeowners, family members, and elderly or disabled relatives. There is a wide range of options that we can customize, including so-called "mother-daughter" living attachments that share a kitchen area, and possibly a common area, but have their own bedrooms, bathrooms, and entrances. This also helps in regions where having a second kitchen is considered a two-family dwelling by law instead of an ADU.
Residential ADUs also diversify a town's housing inventory, particularly if affordable housing is in short supply. With this in mind, many municipalities have supported ADUs in their plans and zoning regulations. This means opportunities for homeowners who want to customize to meet their living needs, and are attentive to town zoning laws. For instance, some communities cap the size allowed for ADUs at a certain percentage of the primary residence, or define who may constitute a tenant. 
Groundskeeper/caretaker housing
Developments that require caretakers have a common housing need: modest, affordable places for employees to live. Think upscale dormitory, with an emphasis on bedroom efficiencies. 
Golf and tennis clubs often need to build housing for employees and groundskeepers, and we've built two to six-bedroom ADU units at courses and clubs throughout the area. These modular homes often aren't ones you want to be terribly visible, so they can be built with a subtle profile and low roofline, designed to blend into the tree line. 
Agricultural/farm housing
The same employee needs that are true of clubs are true of farms, including stables, that require an on-site crew to care for the land and animals. Depending on the region's zoning, there can be exemptions for building codes that usually apply to residential housing (think trailers and tiny homes). This also enhances the flexibility of owners who need temporary housing while more extensive facilities are being built.
Schools and camps
Boarding schools often have employees and teaching professionals whose compensation includes room and board as a perk, and some of that housing needs to be in close proximity to the students, in a supervisory context. The same can be true of camps, which also have custom specifications and seasonal needs. ADUs in this environment will often be attentive to a combination of attached and detached units with matching materials and styles.
Architecturally, almost every ADU is unique. Like any addition, we're trying to marry up an enhancement to a specific building that's already there. By definition, no two projects are going to be the same, and you need to be careful that the pairing merges seamlessly—the new structure should look like it's always been intended as a part of the development, never sticking out like a sore thumb. We have designers who can mock up additions and architectural drawings with a careful eye to make sure it works while helping you meet your needs and local regulations.
Give us a call today and we would be happy to work with you on your project.